The policy options presented here focus on assisting older, lower income tenants. AHURI's policy issue analysis—Getting the best from the private rental sector for lower income households is a useful companion piece, and includes policy development options for the abolishment of 'no ground' evictions.
In 2015–16, the ABS estimates there were around 102,600 ... lower income households aged 65 or more who were renting in the private rental market
Why are older renters different from other renters?
The housing situation for older lower income renters differs from younger lower income renters in that they have finished their working life (and usually have low levels of wealth), they have very limited incomes (i.e. the age pension) and they lack future earnings potential. In addition, with changing modern family dynamics, older householders may still be looking after other family members, including the 21.6 per cent of children aged from 0 to 12 years (864,500 children) who relied on a grandparent (who may or may not be a PRS tenant) for some of their care in 2017.
As tenants get older they may be less able to cope psychologically with stress and changes; may be suffering from physical disability and mental health concerns; may be frail and vulnerable; and can suffer from being isolated.
Finding housing solutions that are secure, affordable and appropriate to older renters is the key to keeping those tenants in their home and not being dependent on residential aged care.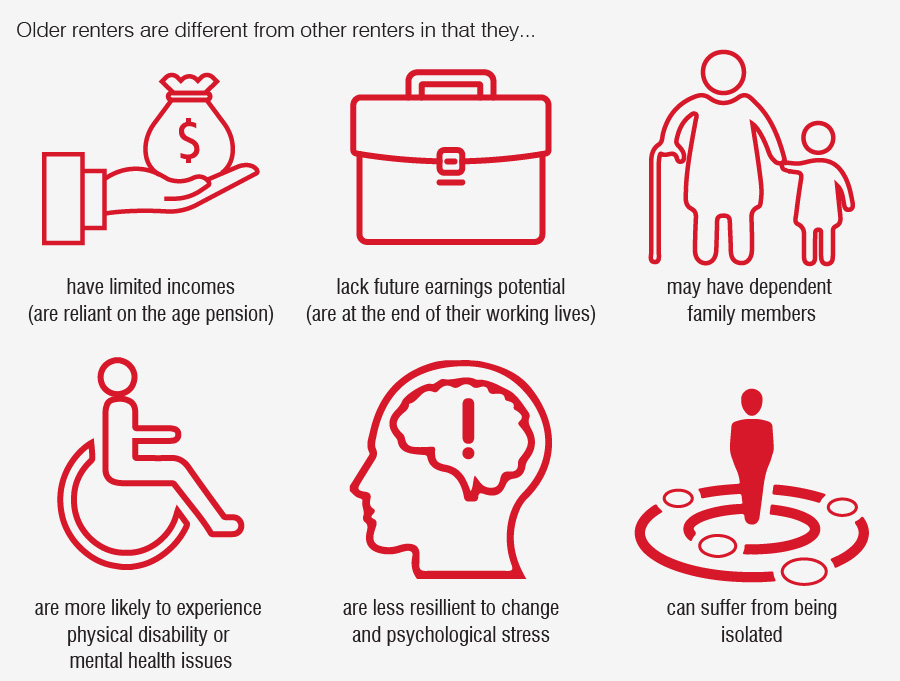 Key fact
Policy makers need to consider how these older renters can live in safe, secure, appropriate and affordable housing. There is also an economic benefit for government in keeping people in their homes for as long as possible. AHURI research shows that the most expensive place for older Australians to live is in residential aged care. In 2005 the average annual cost to government of a person in residential aged care was $33,610 (2005 dollar value), compared with $6,918 for in-home formal care and $3,808 for in-home informal care for an older person who stays in their home. These in-home costs include government assisting with home modifications and providing health care professionals who may help older people showering, getting dressed, with cooking and other daily tasks.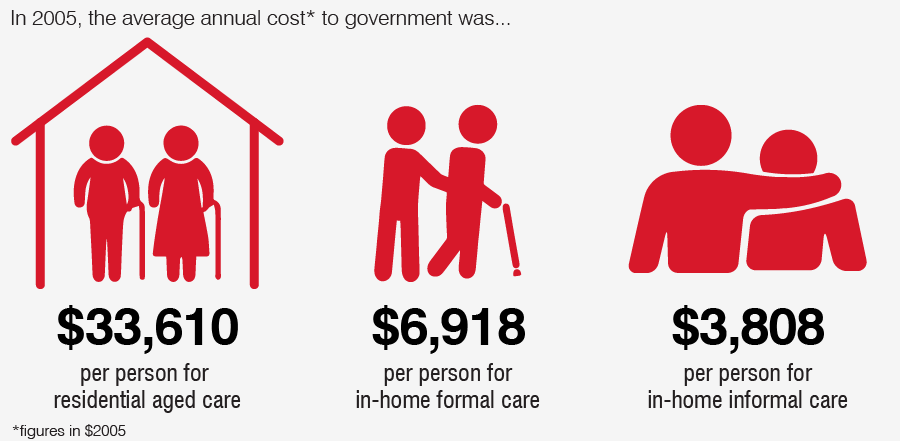 How many are affected?
In 2015–16, the ABS estimates, there were 132,800 couple only or single person households aged 65 or more who were renting in the private rental market and of these, around 102,600 were couple only or single person lower income households (i.e. earning in the bottom 40 per cent of Australia's income distribution).
Across Australia, older lower income households who are in the private rental market paid on average (median) between $210 (singles) and $250 (couples) per week in rent.
For couples relying on the age pension ($684.10 per week in May 2018)  this median average rent is above the maximum rent of $224.28 per week they would pay before suffering housing affordability stress (being 30% of a couple's combined income of the $684.10 per week age pension plus full Commonwealth Rent Assistance of $63.50 per week). For singles the situation is equally poor, with the $210 average rent being greater than the housing affordability stress threshold of $156.36 (being 30% of age pension $453.80 per week plus full CRA $67.40 per week rent).
To put these Australia-wide average rents (which include metropolitan, regional and rural lower income households) into further perspective, in September 2017 the average price for a one bedroom apartment in metropolitan Melbourne was $360 per week, $420 per week for a 2 bedroom flat and $425 per week for a 2 bedroom house.