Housing which fosters meaningful relationships for individuals, both in the home and the community, is associated with improved wellbeing and quality of life, and decreased symptoms and service use. In addition, being in control of one's housing can deliver positive mental health outcomes through feelings of empowerment and belonging, both of which are associated with greater resilience and ability to cope with stressors among people with severe mental illness. Furthermore, to access needed health services and supports an individual may need a fixed address or stable housing.
On the other hand, not being able to find affordable housing has been found to be detrimental to mental health for lower income householders, while there was no such association for higher income households. Where householders experiencing mental health disorders have been able to access housing which has a stable tenure, they have been able to focus their attention on mental health treatment and rehabilitation.
Key fact
In the year before they accessed support, clients of Specialist Homelessness Services (SHS) were heavy users of non-homelessness services such as health, justice and welfare services when compared with the Australian population average.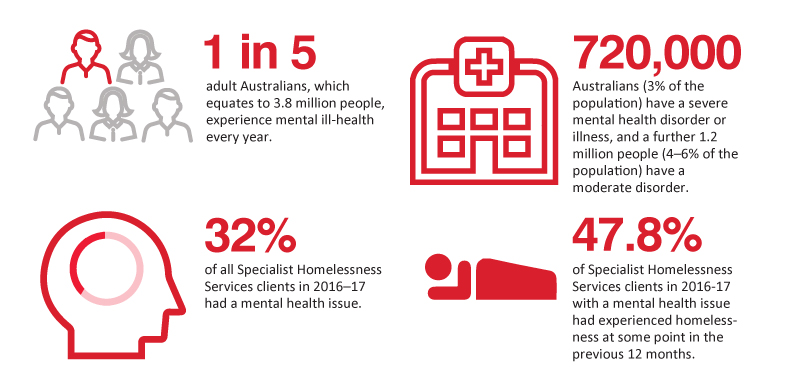 Every year, 1 in 5 adult Australians are estimated to experience mental ill health (equating to about 3.8 million Australians in 2015). Overall, 45.5 per cent of Australian adults (about 8.5 million people based on 2015 population) will experience a common mental health issue at some point in their lifetime.
Of those experiencing mental ill health, around 720,000 Australians (3% of the 2015 population) have a severe mental health disorder or illness, with a further 1.2 million having a moderate disorder (4–6% of population) and 2.5 million having a mild disorder.
With such a large number of people affected by mental ill health, the subject demands serious policy considerations beyond the health portfolio, with housing and homelessness solutions being very relevant. In 2016–17, 77,569 clients of SHS (being 32% of all SHS clients that year) had a current mental health disorder, and of those clients 47.8 per cent had been homeless at some point in the previous 12 months.
People presenting to medical services with mental ill health have a huge impact on government service demands, and on budgets. In 2015–16 over 2.3 million people received mental health-specific services through Medicare, while 244,934 overnight hospitalisations were for mental health care, amounting to nearly 4 million patient care days. In total, Australian Commonwealth, State and Territory Governments spent $9 billion on mental health related services.