Access to affordable, appropriate, safe and secure housing is foundational to the economic, environmental and social functioning of cities. Urban policy in Australia is primarily focused on the supply of new housing in Australian cities in response to the need to manage urban growth boundaries and address housing affordability issues. This includes consideration of the type and location of new housing supply; the impact of housing on urban form; and the provision of affordable and non-market housing.
AHURI research found that there is scope to increase the use of the planning system to generate better housing outcomes by coordinating Australian urban policy, planning regulation and housing goals more closely. A crucial component is to provide a greater supply of affordable and social housing in well-serviced locations close to employment. On a strategic level, urban consolidation in the form of medium- and high-density residential development needs to be integrated more closely within existing urban structures, requiring better urban amenity and access to public open space.
Managing growth and supply
There is a need for housing supply to accommodate demographic change and household growth in many Australian cities. The questions for urban policy and metropolitan planning concern the extent to which governments choose to influence the location, type and quality of new housing being produced. Metropolitan planning strategies focus on supplying new housing through increasing the density of dwellings in existing residential areas, redeveloping former industrial and manufacturing sites and expanding the urban area of cities through land development on the urban fringe. AHURI research has highlighted the potential of 'greyfield' precincts in Australia's capital cities—undercapitalised residential land with ageing housing stock—to deliver more strategic intensification, including affordable and sustainable medium density housing.
ShapingSEQ: South East Queensland Regional Plan 2017 and other metropolitan planning strategies set targets for new supply being provided within existing urban areas and limit the amount of land development on the urban fringe. Setting housing targets is one strategy for growth management and is sometimes coupled with other measures such as land use zones that focus housing growth in designated locations or place-based strategic planning processes and tools like Urban Design Frameworks.
Managing growth can require strategies that are sensitive to the particulars of specific locations and account for the uneven nature of, for instance, local housing markets and underlying property values. In high value locations, for example, the emphasis can be on controlling growth and leveraging other benefits, while other places may require direct investment or stimulus.
Urban policies also recognise the need to supply a diversity of housing types in cities, to offer choice and to support shifting household needs and compositions. A focus on 'housing outcomes' is sometimes used when addressing these requirements.
Urban form
The overall form and functioning of urban regions are to a large extent determined by the type of housing that predominates. Urban area expansion, or 'greenfield' suburban development, has been a consistent feature of housing growth in Australia for many decades, while urban infill and consolidation through medium and higher density housing development has occurred less evenly and been more difficult to manage. The last two decades have also seen the emergence in Australia's largest cities of very high-density residential development, consistent with global trends and principally as investor stock. However, this trend toward high-density housing might be disrupted by changes to immigration policy, consumer preference and the economic downturn resulting from the COVID-19 pandemic.
Urban policies related to Australia's major cities acknowledge that land development for detached housing on greenfield sites is not environmentally sustainable. Infrastructure Australia advocates for reducing 'urban sprawl' by developing new housing supply in established areas to diminish demands on infrastructure and decrease congestion. Metropolitan planning strategies also acknowledge that shifting to higher density living can increase the need for urban green space. The 30-Year Plan for Greater Adelaide (2017) emphasises the importance of providing quality public open spaces in proximity to housing as an increasing number of people live in apartments, townhouses or houses with smaller backyards.
Metropolitan planning strategies emphasise the need for new housing developments to be proximate to employment and well-serviced by transport and other forms of infrastructure. However, an AHURI review has highlighted that, to achieve this, urban policies need to consider better linkages between housing, labour markets and the commuting patterns that plans are attempting to shape. Building Momentum: State Infrastructure Strategy 2018-2038 by Infrastructure NSW recommends establishing an integrated housing and employment pipeline to manage future demand on transport and other infrastructure.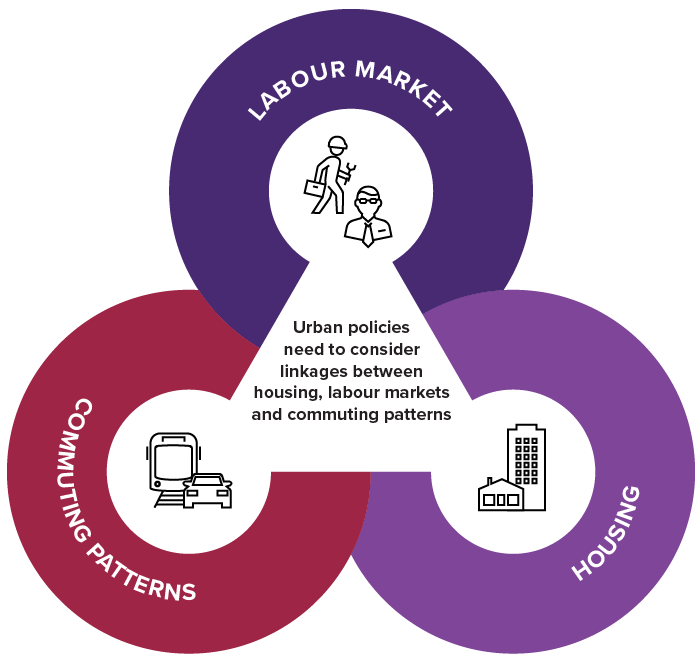 To better manage urban consolidation and coordinate housing supply with transport and other infrastructure, urban planning and infrastructure policies have become more focused on considerations of overall urban structure, with an emphasis on precinct development and urban renewal as primary locations for new housing. Research from the current AHURI Inquiry into urban productivity and affordable rental housing supply examines how planning interventions can support urban productivity and what the implications are for Australian cities policy.
Social and affordable housing
The declining affordability of housing in Australia's major cities, and a severe shortage of affordable housing have been documented in AHURI research. The growing inequality in Australian cities that is both a cause and effect of these issues has increasingly manifested spatially, as housing markets have reorganised in response to demographic and labour market changes. AHURI research shows that locational disadvantage in Australian cities occurs because of housing, planning and urban policy frameworks not addressing social inequality adequately. Current AHURI research is analysing the renewal of public housing estates within neighbourhood and citywide reconfiguration processes and their social and economic outcomes.
Policy implications
Policy directions for housing in metropolitan planning strategies, along with the suite of initiatives that support these, should clearly relate to the objectives and principles that guide urban plans as a whole. Urban policies could provide more strategic guidance on the urban form of housing. This could entail further guidelines for high-density developments to be better integrated in neighbourhoods by providing adequate open space and social facilities. In low- and medium-density residential urban policies can improve housing outcomes, including design guidelines, energy efficiency standards and transport access. A role for government in cities policy is to address housing market failures, such as those relating to the supply and distribution of affordable housing. The scope of this role extends beyond strategic and land use planning, although planning systems do need to form part of an integrated response to the need for secure, affordable housing.
Future areas of inquiry
How could the urban form of Australian cities be transitioned to accommodate future populations sustainably and how might this transition be implemented?
How to achieve effective provision of appropriate, diverse housing integrated with transport, employment and social infrastructure throughout a metropolitan region?
How can urban policies deliver social and affordable housing that contributes to tenure diversity and meeting housing needs in cities?
What is the role for urban design and building codes to facilitate the quality of housing in Australia?