Urban policy frameworks across Australia present an uneven treatment of environmental issues. While some metropolitan planning strategies are explicit about the role of cities policy in addressing climate change, for example through preparing for rising water levels, increasing likelihood of natural disasters and other environmental hazards, others do not account for this in detail.
Australian cities have grown rapidly, extending the built environment into former greenfield sites, increasing the consumption of natural resources and creating the need for better urban amenity in densifying built-up areas. At the same time, environmental changes are impacting Australia's cities through higher average temperatures, more frequent extreme weather events and diminishing availability of fresh water.
This Brief will examine how urban policy strategies have addressed the resilience of Australia's cities to climate change, the environmental impact of urban growth and the sustainability of the built environment.
Climate change resilience
Climate change is impacting Australia's cities. In 2018, the State of the Climate report predicted more frequent extreme weather events, increased fire conditions and a higher likelihood of water scarcity. Urban policy responses include adapting to changing climate conditions, mitigating climate related risks and reducing greenhouse gas emissions. Within its sustainability and resilience objective, the ACT Planning Strategy 2018 has a target of developing Canberra into a net zero emissions city by improving urban design and infrastructure, minimising waste and more efficient resource usage.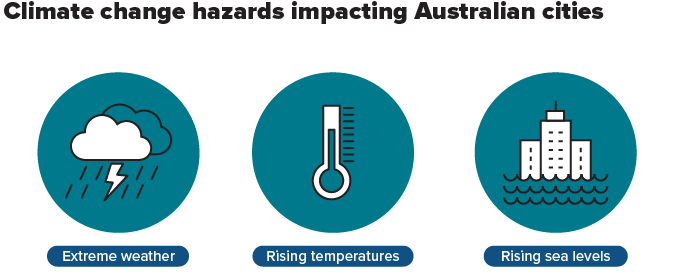 Reducing carbon emissions within the housing sector plays an important role in meeting Australia's climate change response. Upcoming AHURI research is exploring sustainable building practices by reviewing repair and maintenance approaches, context-appropriate housing design and adopting a lifecycle perspective for regional and remote Indigenous housing in Australia.
To endure extreme weather conditions and natural hazards the resilience of infrastructure needs to be increased and infrastructure planning needs to adapt to changing environmental conditions.
The main aspects within the policy frameworks of infrastructure agencies are the environmental impacts of infrastructure projects and the resilience of current infrastructure to changing environmental conditions. Infrastructure Australia is supporting proactive planning and investment decisions to accommodate emerging risks induced through climate change, such as the risk of coastal inundation and water scarcity. To endure extreme weather conditions and natural hazards the resilience of infrastructure needs to be increased and infrastructure planning needs to adapt to changing environmental conditions. Infrastructure Victoria highlights the potential of infrastructure to reduce environmental impacts, for example through enabling lower emissions and promoting renewable energy generation.
Environmental impacts of urban growth
Current urban policies rely on residential developments on the urban fringe to accommodate provide new housing supply, extending the built environment into natural environments or land formerly used for food production or other rural uses. Research by AHURI explored the economic, environmental and social characteristics of residential developments on the urban fringe. The research found that increasing development densities and a move to smaller houses would raise environmental sensitivity and address issues like reducing greenhouse gas emissions and other forms of pollution, while consuming fewer materials.
Plan Melbourne 2017-2050 states the importance of agricultural production on the fringe of Melbourne due to its proximity to consumers, access to infrastructure and labour and quality soils to ensure the city's food security. Furthermore, the strategy refers to losses in biodiversity and highlights the relevance of conservation. To protect food security and biodiversity, urban policies suggest establishing networks of greenspaces, maintaining the urban growth boundaries and encouraging the intensification of existing urban areas.
Urban sustainability
The sustainability of Australia's cities is addressed in urban policies. AHURI research shows that renewal projects in existing urban areas would benefit from precinct-scaled redevelopments that could drive sustainable transformations in the broader urban environment. The Central Darwin Area Plan acknowledges the effects of the built environment on the local climate, such as through 'heat islands' that increase the temperature in built-up areas. To combat this effect, urban policies suggest 'greening' existing urban areas by establishing and maintaining canopy trees, 'green' buildings, and providing more public open space. Local government initiatives implement more detailed strategies in greening the built environment. The Urban Forest Strategy by the City of Melbourne aims to mitigate the urban heat island, create healthier ecosystems and become more water sensitive through increasing canopy cover and biodiversity.