When extremes of weather sweep in, either colder or hotter, the impacts of energy poverty for lower income households become severe, with more than 6 per cent of deaths in Australia each year due to living in cold environments and one per cent of deaths heat related.
Across Australia in 2018, one in four households in the lowest income quintile (i.e. bottom 20% of incomes) paid over 8.8 per cent of their income on energy to run their home (in comparison, the highest earning quintile spent an average of 1.5% of household income), and that burden is increasing. In the decade to 2018 electricity prices increased by 76 per cent (in real terms) and gas prices by 53 per cent.
Having energy efficient homes will help the health and wellbeing outcomes for low-income households, especially for those who are tenants in the private rental market. The Australian Housing Conditions Dataset 2016 (AHCD) survey of both public and private renters revealed that 18 per cent of public renters, and 14 per cent of private renters, were unable to keep sufficiently warm in winter.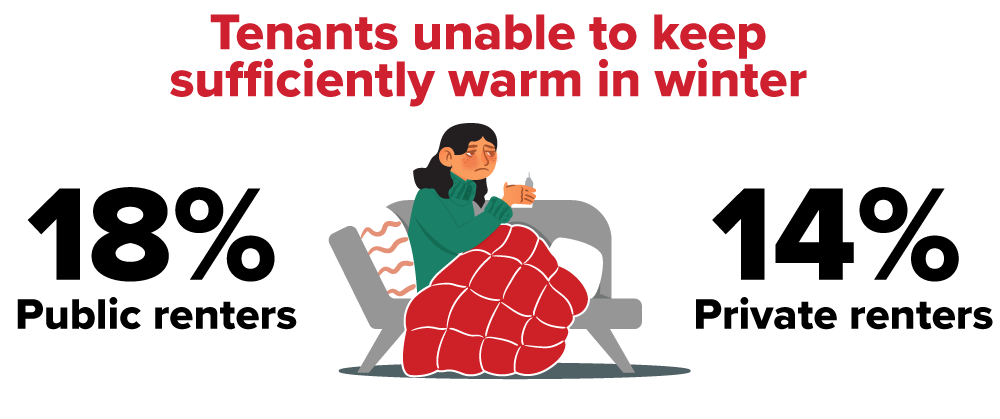 COVID-19 lockdown restrictions also revealed energy concerns for low-income households. AHURI research examining lived experience case studies during the COVID-19 lockdown in Melbourne found participants energy use was impacted in two main ways – experiencing thermal (discomfort) and changes in energy bills. The report documented the case of an older person (age 86) who, to reduce their exposure to the cold and to paying unaffordable energy costs used to 'spend most of her days pre-COVID-19 at clubs and events—not only to socialise but also to keep her energy bills down.' With the COVID restrictions she tried to keep warm in the house 'by using electric blankets and warm clothing.' Other participants reported increased energy bills and had to be efficient in their use of their appliances to keep warm.
However, there is an issue for policy makers as there is no standard definition of what comprises energy hardship, energy stress or energy poverty. AHURI research notes that energy hardship 'is a concept that links energy, equity, housing and health' and that energy stress might be measured as the ratio of energy costs to income. Such a measure may underestimate the impacts of energy costs in households who have already severely restricted energy use as they can't afford the cost. The research also noted 'energy hardship may not necessarily be expressed as utility/rent arrears, but rather increased reliance on other support services, including food banks.'
For policy makers a measure of required energy expenditure for each household, rather than an actual energy expenditure, might provide a more accurate assessment of energy stress, and would build a better base to support lower income households cope.