news
Embracing alternative housing ideas to house our ageing population
26 May 2022
---
With new housing supply highly unlikely to meet the needs of the 440,000 households aged 55 years projected to need affordable housing by 2031, Australia has to develop new ways of housing older people safely and securely. New AHURI research, 'Alternative housing models for precariously housed older Australians', is exploring the potential of alternative housing models to increase the supply of affordable housing for older Australians and the role alternative financing schemes could play in expanding those options.
A survey and in-depth interviews with housing industry professionals undertaken as part of the research revealed that almost 75 per cent of respondents said the housing needs of lower income older people (aged 55 and over) are 'not well' or 'not at all well' met. The industry professionals also said relying too heavily on the private rental sector to house older lower income people was problematic, and one of the main reasons why alternative affordable housing options are urgently needed.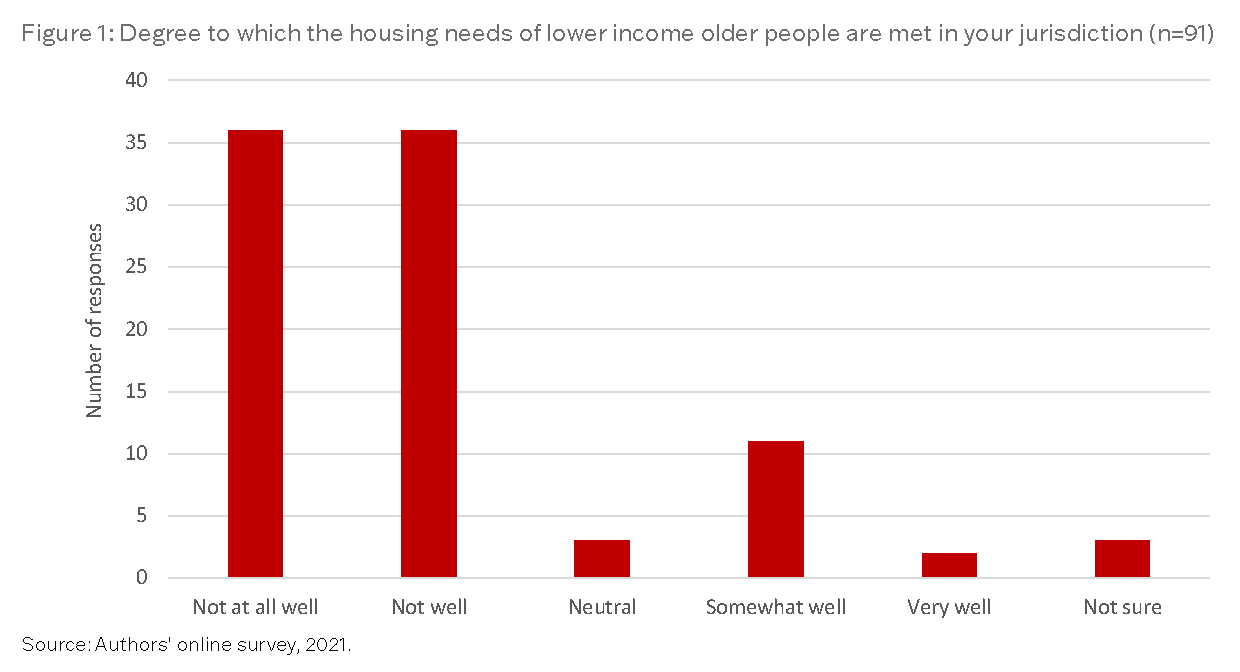 'In our research, participants called for a wide and diverse range of housing options for older people on lower incomes, with many noting that it was not a case of 'one size fits all'', says lead researcher Dr Selina Tually, from the University of South Australia. 'We considered a number of different housing options and found the models having the greatest potential to better meet people's needs are cohousing, integrated mixed-use developments, modular-style manufactured housing that uses available vacant land, low-rise medium density development and reforms to the private rental sector to better protect older tenants.'
The research illustrates a range of opportunities for better addressing the needs of precariously housed older Australians, with several key themes emerging such as increasing housing density to expand affordable housing supply for older Australians in amenity-rich locations with ready access to supports; acquiring government land at low cost; and increasing the supply of social housing.
Although the research did consider things like 'granny flats', cooperative housing, shared equity schemes and build-to-rent models, these often were either not economically appropriate for low-income households or existing policies, processes and regulations at local, state and federal government levels are not designed to readily accommodate housing models outside what was considered the norm. This will make developing alternative models a long and difficult process.
'Our interviewees said that, in general, the housing preferences of older people on lower incomes were likely to be different from those of older people on average or higher incomes,' says Dr Tually. 'In particular, it was thought that people on lower incomes may be more willing to embrace alternative housing models, including smaller size dwellings and higher density developments. Some interviewees noted that older people with experience of housing insecurity were generally just happy to have an affordable dwelling with security of tenure and were not particularly selective about a dwelling's other attributes, although proximity to accessible, well designed community spaces is also an important part of the alternative housing model picture.
In-depth consideration of the alternative models outlined in the research is part of the next stage of the Inquiry into housing options for precariously housed older Australians, with capturing the thoughts and experiences of precariously housed older people a key part of the evidence-building around what market demands look like.