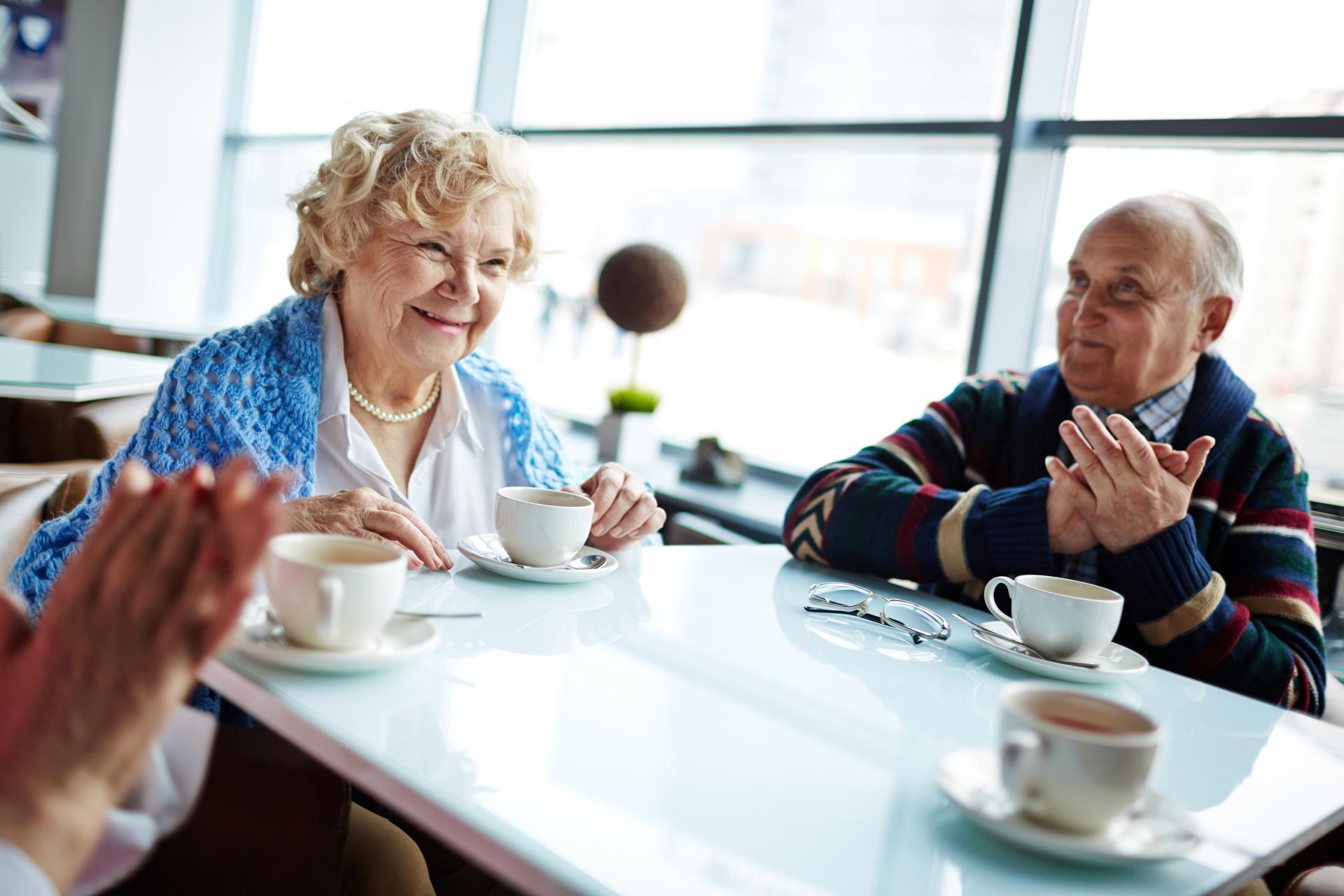 news
Retirement Villages popular, model could be improved
14 Dec 2022
---
The research, 'Business models, consumer experiences and regulation of retirement villages', undertaken for AHURI by researchers from University of Tasmania, UNSW and Synergy Consulting, explores the business models used by retirement villages, and surveys residents to understand the appeal, benefits and disadvantages of living in retirement village accommodation.
Retirement villages are popular and growing among affluent Australians
'We found that most retirement village residents come from financially well-off groups who have used the proceeds of their property to live in a village,' says the research's lead author, Dr Max Travers of University of Tasmania. 'The major providers in the retirement village industry are forprofit companies who market their product as a 'lifestyle choice' to entice affluent Australians to purchase accommodation.'
The research finds people choose to live in a retirement village for a number of reasons: declining health (the most cited reason); the need to reduce responsibility and maintenance; the need for assistance while not being a burden on families; social isolation and loneliness; and a desire to take control over their future. They are attracted to retirement villages where they are near to family and friends; have a clientele of similar age; are in a familiar place; are close to services and facilities; that provide safety, security and informal care; have lifestyle options; and are affordable. Overall, the research found residents have a positive view of the perceived and actual benefits. Villages are growing as a housing and lifestyle choice because they offer community living.
Current retirement village models could be improved
The report found four types of tenure typically on offer to retirement village residents, with each offering different upfront costs and ongoing management fee options:
a loan or license arrangement, where the resident pays an entry fee that grants them a licence to live in the property. When a resident departs the community, the entry contribution is refunded, less a delayed management fee (sometimes known as an 'exit fee')
a long-term lease in exchange for a lump sum payment. Residents who leave the village and have their apartment resold are entitled to a lease termination payout based on a percentage of the selling price
a strata or community scheme, where the resident pays the agreed purchase price to the unit's owner under a sale of land contract
freehold and other tenure types (such as company titles and rental villages).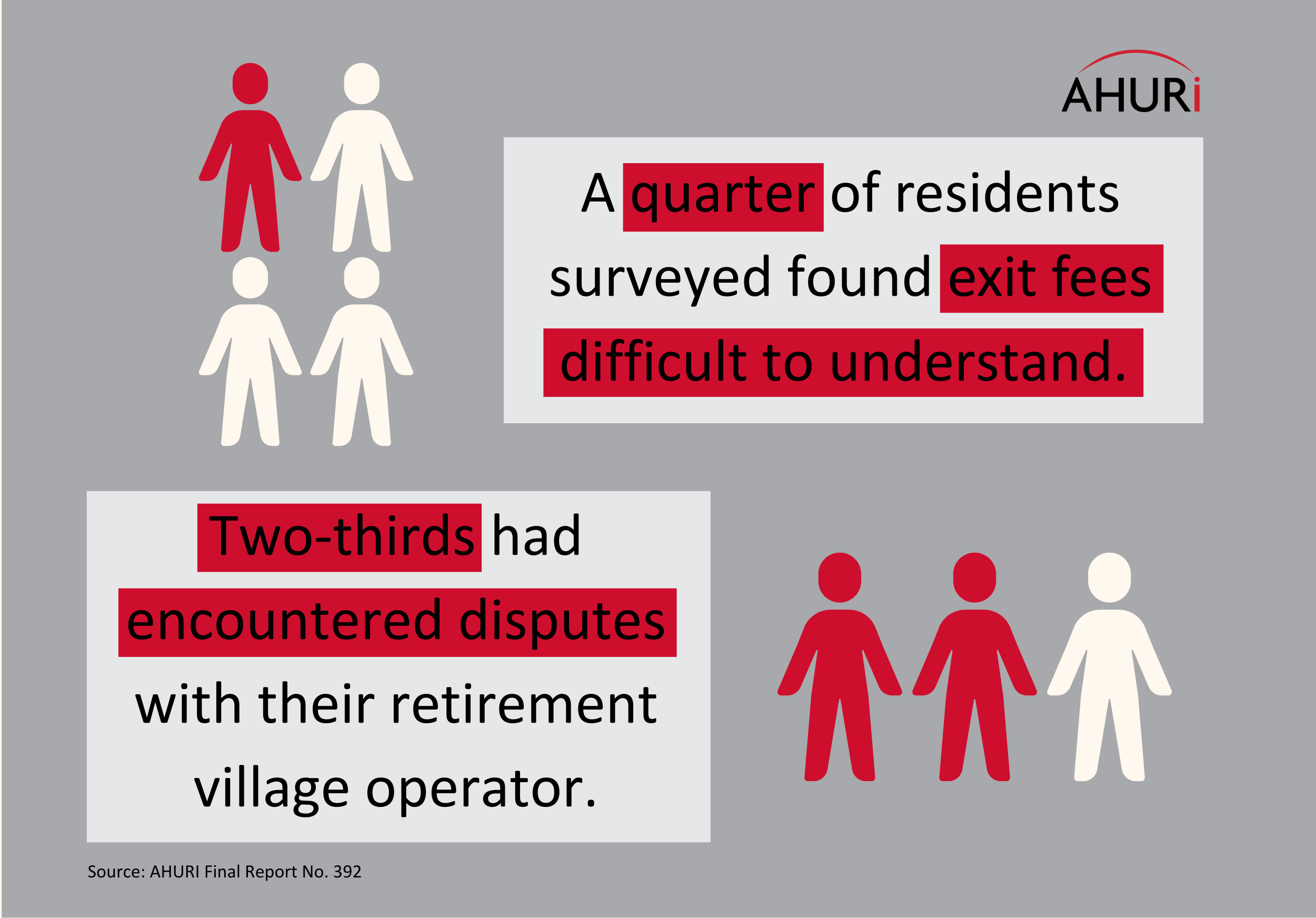 Financial arrangements such as flexible entry fees were important for giving diverse populations of older adults the ability to live in a retirement village. Some residents revealed that living in the general community was more expensive (as well as more challenging) than the costs of living in a retirement village. In addition, they felt that the range of services and facilities provided in the retirement village increased their dwelling's affordability.
However, many survey participants also noted that the real cost was in the exit fees levied when a resident leaves the village. They observed that it was important to see their retirement village home as an investment in a lifestyle, not as a profit-making investment. A quarter of respondents either could not understand exit fees or experienced difficulties understanding exit fees. Most residents sought legal advice but did not see this as helpful. Approximately two-thirds of survey respondents reported that they had encountered disputes with their retirement village operator; around one-fifth of those disputes concerned fees or the financial management of their village. The next most common issue encountered concerned their retirement village's management and service quality.
The report recommends that there are opportunities to enhance the retirement village model through:
the establishment of a national ombudsman to support and advocate for the rights of older people navigating disputes with retirement village operators
greater transparency into ongoing charges for retirement village residents
better standards of service including turnaround times for repairs and maintenance
building standards that ensure retirement village operators are responsible for providing accessible, universally designed residences and facilities
the provision of ethical and impartial dispute resolution processes for retirement village residents
regulation of the financial management practices of retirement village operators
repositioning of retirement village contracts as a financial product, instead of a housing investment product, and ensuring greater consumer education and protection.