Understanding downsizing
What are the different types of downsizing and how common is it?
With government policies and election promises seeking to promote downsizing amongst older Australians, it is important to understand just what it entails.
Downsizing is the process by which a household moves from one dwelling to another that may be either smaller in size or of lower value, or both. The concept of downsizing is usually applied to older Australians when they move prior to or during their retirement. However, a move into aged care isn't usually seen as downsizing.
Financial downsizing
For home owners this means selling their home and either buying another home of lower value or renting a home. Although it's of lower value, the 'new' home might actually be larger in size, as may be the case for people moving from a capital city dwelling to a regional or rural property, or for someone selling a smaller home and renting a larger property. Indeed, research shows for older age groups, fewer than 20 per cent of individuals who sold their existing home to buy another reduced their net level of housing equity in the process.
Financial downsizing can also apply to people renting in the private market who choose to move to a new dwelling with lower rental costs.
Physical downsizing
Physical downsizing is defined as moving from a larger to a smaller dwelling, although the strict definition of 'larger' is open to consideration. Usually it is seen as moving from a property with a certain number of bedrooms to a property with fewer bedrooms. Of course, the new property may have larger living room or garden areas, however tracking that data is much more time consuming and complex. Indeed, an AHURI research survey revealed that only 72 per cent of older Australians who moved house were able to estimate the floor area of their dwelling.
Using bedroom numbers as a measurement may also hide the downsizing element for people who move to a home with the same number of bedrooms as previously but the living areas in the dwelling and/or its gardens are smaller.
How common is downsizing
AHURI research shows that most older Australians (i.e. aged 55 and over) who own their own home don't downsize. Indeed, among owner-occupiers aged 65 to 74 years and over in 2001, around 60 per cent lived in the same dwelling 15 years later (in 2016).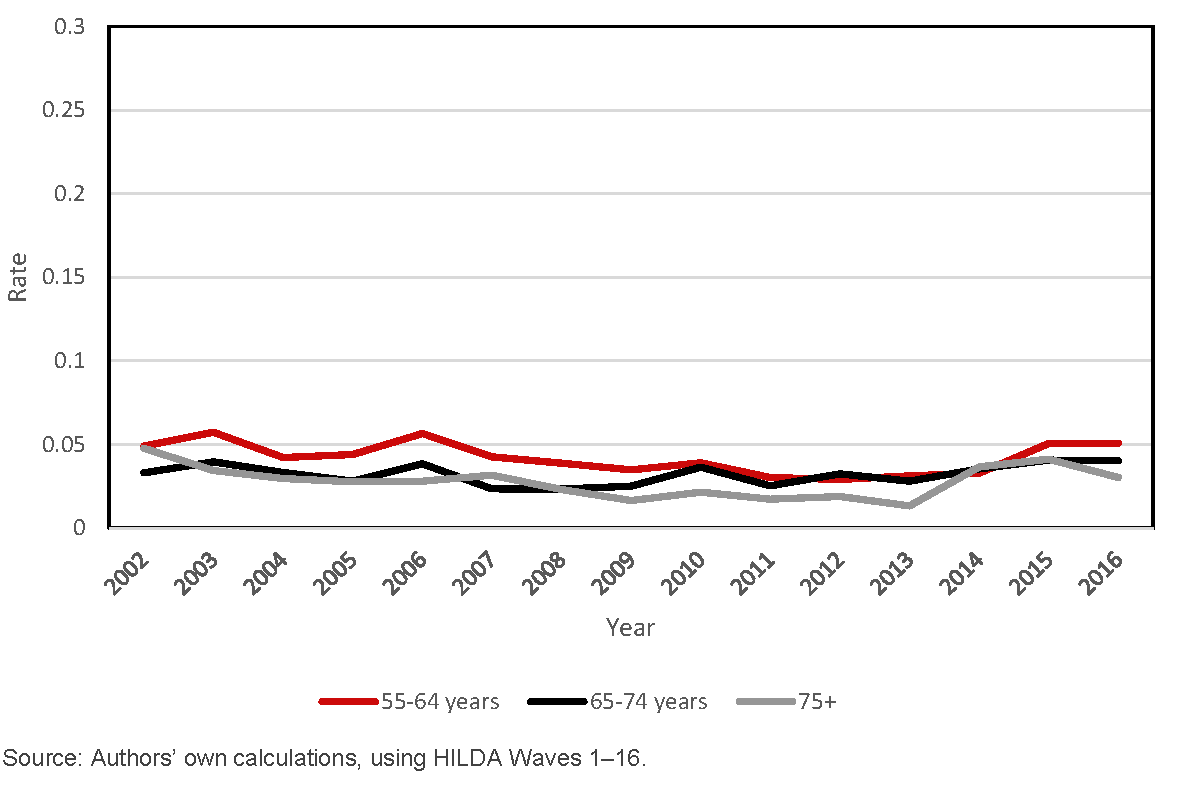 However people who rent in the private market move much more, with HILDA data revealing that only around 45 per cent of renters aged 65–74 years were in the same dwelling 15 years later.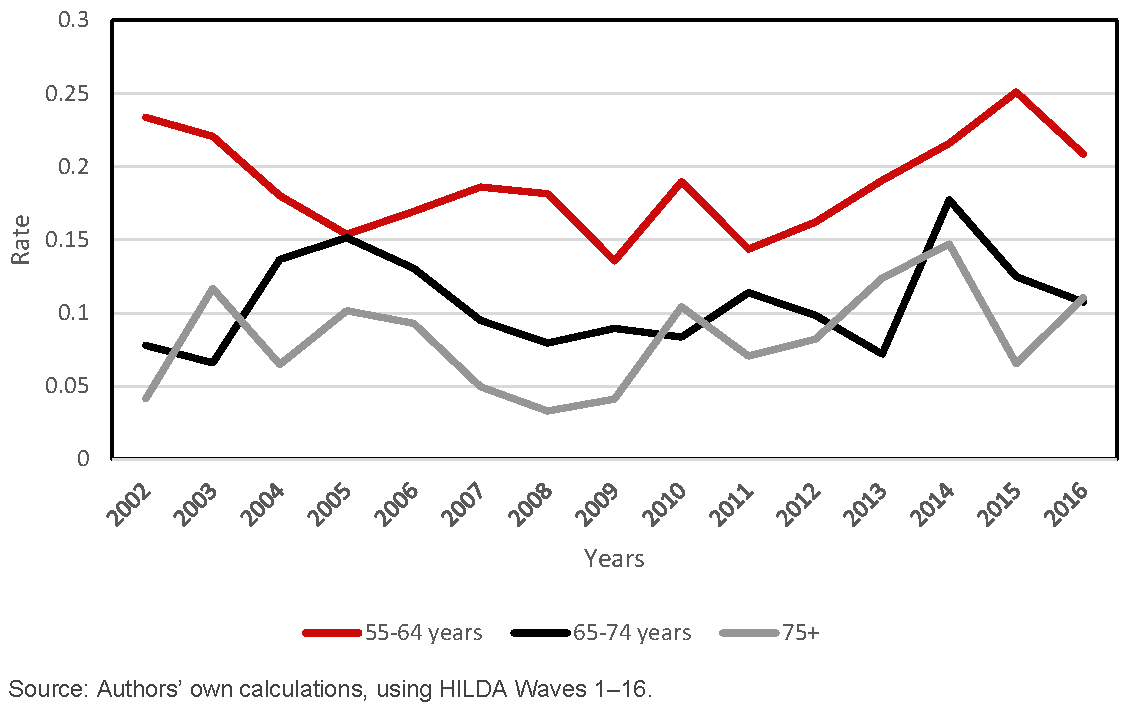 If we just consider home owners, research shows that physical downsizing, as measured by a decrease in the number of bedrooms, is relatively low for all age groups. Even among those aged over 75 in 2001, who display the highest rate of downsizing, fewer than 15 per cent of individuals in owner-occupied dwellings in 2001 had moved to another owner-occupied dwelling with fewer bedrooms by 2016.
Financial downsizing is also very low. Only around 20 per cent of owner-occupiers aged 55 to 64 years in 2001 moved to another owner-occupied dwelling of lesser value by 2016 (this age cohort was the most likely to have 'financially downsized' during this 15 year period).
Perceived problems with financial downsizing
Policy makers have concerns that older Australians don't financially downsize as they are worried income from the sale of their previous home will affect their ability to receive the Age Pension. However, a previous survey of older Australians revealed that 'Among respondents who were considering moving to a smaller dwelling, (only) around 16 per cent identified the Age Pension assets test as the main factor discouraging them from downsizing.
In addition, the Productivity Commission has found very little evidence that older Australians decide not to sell their homes due to concerns around eligibility for the Age Pension. Nevertheless, other research reveals that while Age Pension recipients are more likely to move than non-Age Pension recipients, they are less likely to financially downsize; a finding consistent with the idea that those households affected by the AP means test are less likely to trade down. The research concludes that 'While statistically significant, the estimated impact is small in terms of its economic or practical significance.'
Ultimately the evidence shows older Australian homeowners generally stay in their homes, with a 'limited tendency to consume housing wealth through downsizing... When such transitions do occur, they tend to be associated with life events that are not induced by or associated with policy settings; for example, health shocks that require a move into aged care.'
This brief was first published 29 November 2019